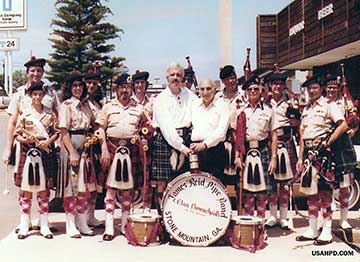 Back in the summer of 1983, when we were still the James Reid Pipe Band, we were hired to promote a brand of Scotch at the Sprayberry Bottle Shop in Marietta, Georgia that was co-sponsored by the liquor store and the Scotch distributor. We circled in front of the store for two or three sets before piping into a local pub in line and unannounced.
Front row, L to R, Alton Cochran, Jr., drummer; Loretta Minnear, piper (mother of the current APB PM Bobby Minnear); David Browne, band founder and first PM; Charles Bryan member of Clan Gordon and manager of the Sprayberry Bottle Shop; unknown Scotch distributor; Paul Braman, first DM; Scott Braman, piper.
Second row, L to R, Wayne Coleman, bass drummer; Tom Moore, piper; David Crumpton, side drummer (and an original member of The Box Tops!); Terry Haynes, piper; Berkeley Strobel, piper; Alton Cochran, Sr., piper; Tom Flynn, piper, one of three original band members.
—Wayne Coleman