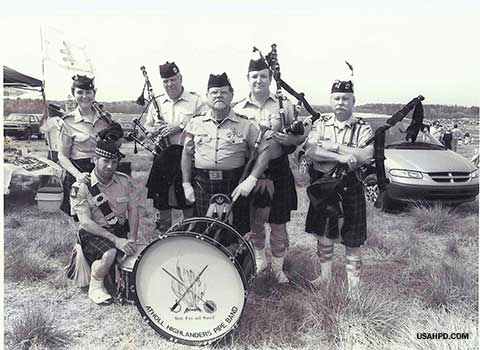 The AHPD has been honored to participate in opening ceremonies for the Atlanta Steeplechase for many years. This photo was taken in 1997, the first year the steeplechase was held at its current location. In prior years it was held at the Seven Branches Farm in Cumming.
Marching on the deep, thick grass on the stretch is always a challenge,  but this photo, taken near the band tent in the infield, could be titled "Lost in the Weeds." It could also be titled "The Olden Days," as digital cameras weren't yet common, the photographer used black-and-white film, and the drum major is wearing white gloves! (This was not the entire band entourage; others were either at the band tent or wandering the tailgates.)
We enjoyed a big barbecue lunch in the media tent before assembling in the main sponsor party tent to pipe Steeplechase officials to the track for the opening ceremonies.
—Wayne Coleman